Smoked. Sliced. Ready to Enjoy.
The best meats are even more delicious with the best cheeses. Deli meats and cheeses for top deli tastes. Authentic, classic flavors. Top quality.
Waco Beef & Pork Processors: best cheese and deli meat selection in central Texas. Roast Beef. Black Forest Ham. Head Cheese. Roast Turkey Breast. Smoked Cheese.
We sell genuine Wisconsin cheeses. With a reputation for excellent flavor and smooth creaminess, Wisconsin cheeses are considered the best. Home of the original Colby cheese.
Handcrafted and specialty developed.
The best natural ingredients.
Waco Beef & Pork Processors
Delivering delicious deli meat and cheese flavors throughout central Texas.
Bulk Deli Selection and Services
Delivery and Commercial Services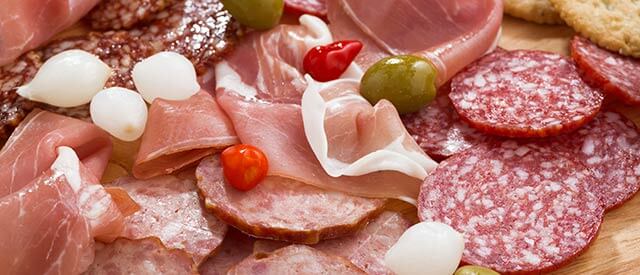 Waco B&PP offers top commercial services for eateries in central Texas.
Same or next day delivery: for rush orders and special events.
Customized bulk orders: follow a special recipe or create a unique taste for your menu.
Special selection available: certified organic deli meat or Kosher meat available by special order.
Waco Beef & Pork Processors: Top suppliers of highest quality deli meats and gourmet cheese throughout central Texas.
Grocery. Catering. Restaurants.
We provide the top selection of deli meats to grocers and delis. Same and next-day delivery by special order. Daily delivery in refrigerated, commercial trucks.
Grocery: Pre-sliced deli meat for packaging and customized meat trays. For individual retail sale in groceries and convenience stores.
Catering: Pre-sliced deli meat for your catering tray arrangements. Bulk sliced meats for self-serve eating at special and corporate events.
Restaurants: Top selection of whole and pre-sliced deli meats for delis, lunch counters, diners, and sandwich restaurants. Wholesale and bulk sliced meats for quick-prep and traditional deli counter service.
Smoked Deli Meats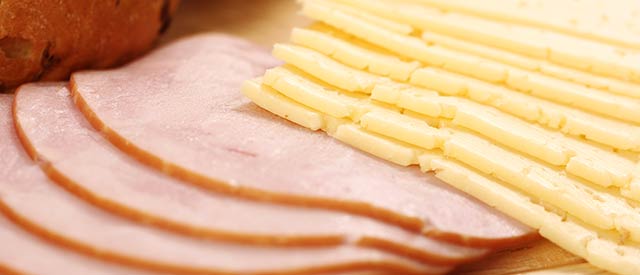 We offer a selection of the best smoked, cured, and seasoned deli meats. We smoke all our meats over hickory, to custom and specialized recipes.
Enjoy the widest range of flavors. Offer diners the tastiest selection.
Black Forest Ham. Roasted Turkey. Pastrami. Capicola. Sausages. We offer whole smoked meat as well as pre-sliced smoked deli meats.
Bacon: whole slab, rind less or rind-on, thin or thick sliced, hickory smoked. Bulk packaged for your convenience.
Try our Holy Smoked Boneless Ham: similar to Black Forest Ham, made with Texas pride.
Waco Beef & Pork Processors have over 120 years of combined experience smoking meats.
Waco B&PP: gourmet cheese for discriminating palates
Consult with one of our experienced deli meat and cheese experts on your menu options and flavor combinations. Over 120 years of combined experience in flavorful meats. Expertise with the best cheese.
Top deli meats deserve the best gourmet cheese to accompany them.
From Swiss to American, from French to Italian cheeses. Top tastes of the world brought to every meal in central Texas. Award winning flavors. Top aged cheese. Fresh Wisconsin cheese. Yellow or white cheese.
Waco Beef & Pork Processors offers brick cheese, pre-sliced cheeses, and pre-grated cheese for deli counters, catering events, and grocery selection.
We offer fresh and smoked cheese. A variety of flavors. European and American cheese selections
Cheese Curd
Cheese curds are a popular, flavorful snack. A treat found at many delis, restaurants, fairs, and restaurants. Specialty grocery stores may also offer a selection for home cooking. Known as "squeaky cheese" in parts of the US, cheese curd can be fried, baked, or used in various recipes. Waco B&PP offers a variety of top quality Wisconsin cheese curds. Bulk and wholesale orders of the freshest, highest quality.
Best American Delis Serve the Best American Deli Meats
Waco, Texas Based. Tastes from Across America.
Waco Beef & Pork Processors proudly operate from our central location in Waco, Texas, bringing central Texas diners the best selection from around the country. While we process many of our own meats, delivered from throughout Texas and neighboring states, we also bring in the top selection from across the country.
Top authentic gourmet cheese. Specialized deli meats from award-winning brands. For restaurants and delis with a traditional flavor. For palates with a modern craving. For special events and large gatherings.
Waco Beef & Pork Processors: The best tastes for every diner. Serving the best chese and deli meats to the best people.