Smoked Prime Rib. Spiral Cut Ham. Smoked Whole Turkey.
"It's the most wonderful time of the year."
– Meat Lovers Throughout Texas
When your loved ones are gathered around the holiday dinner table, serve them the best. Whatever the special occasion and whatever the meal, give your loved ones the award-winning taste of smoked holiday meat from Waco Beef & Pork Processors.
Individualized Smoking Times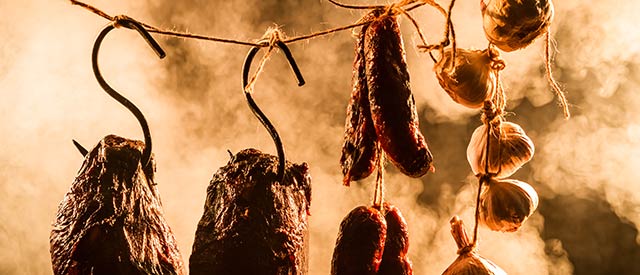 There is no standard time for smoking meats. Each meat must be monitored for perfect flavor. Smoking the best meats requires patience and training.
Our smoked sausages, hot dogs, bacon, chicken, and other meats spend 2 to 6 hours in the smoker. Prime rib is smoked for 4 to 6 hours to reach peak flavors.
Our smoked turkey and cured ham spends 10 to 14 hours in the smoker, depending on weight. Brisket is smoked for 10 to 16 hours, depending on weight.
Local Commercial Delivery
Throughout central Texas, we deliver same or next day on many orders. Our refrigerated trucks deliver every day in and around Waco.
We help many commercial kitchens plan their holiday menus including:
Restaurants
Groceries
Delis
Convenience stores
Hotels
Caterers and event planners
For corporate events or wholesale distribution, we deliver holiday hams, turkeys, and other smoked meats. Give your customers the best. Serve an unforgettable holiday feast this year.
Top Smoking
Facilities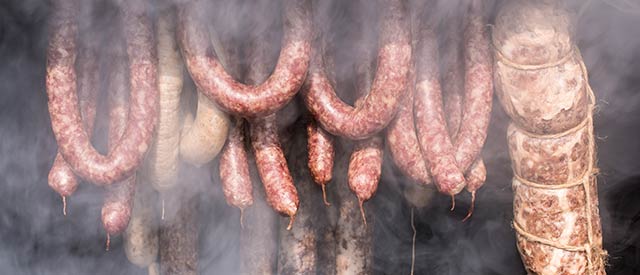 Our state-of-the art smokehouse runs monitored 24 hours per day throughout the holiday season. We work around the clock to make sure that every dinner table has the perfect meat for every special moment.
Hickory Smoked
Hickory is known for its clean, yet intense smoky flavor, and has long been the traditional wood used for Old World smoked sausages.
We always use the best American hickory wood to smoke our turkeys, prime rib, sausages, and bone in ham.
Top Smoked Holiday Meats
Waco Beef & Pork Processing offers a selection of smoked holiday meats for all special occasions or gatherings. Serve a holiday meal any day on the calendar.
We prepare and smoke turkeys for any size table. Whether you need a bird that's only a few pounds or one that's "big enough to feed half of town," Waco B&PP can help.
Smoked Whole Turkey
Our turkeys range from 10 to 12 lbs. We smoke each whole turkey for an individual time, for ideal smoke flavor. We refrigerate or freeze smoked turkey for short or long term storage.
Specialty orders of smoked whole turkeys available. We offer smoked turkey breasts and legs for commercial kitchens.
Make your holiday prep easy with Waco B&PP.
Specialty Smoked Holiday Meats
Prime Rib. Briskets. Sausage and Frankfurters. Chicken. Bacon.
Any smoked meat for at your holiday dinner table, Waco B&PP offers the best selection in central Texas. USDA Prime rib, smoked to peak tenderness and flavor. Smoked prime rib to serve at holiday tables year-round. USDA Prime brisket, smoked for melt-in-your-mouth tenderness. Award winning recipe and technique.
We produce the Holy Smoked Sausage! brand. Traditional recipes blend with top local ingredients for something worthy of a celebration.
Smoked chicken offers a delicious, low-fat alternative for your holiday dinner table.
Award-winning smoked bacon to add flavor to any meal. Perfect for wrapping around cuts of beef, adding to chicken or fish dishes, or enhancing the flavor of beef or sausage stews.
WB&PP: Best selection of holiday smoked meats in central Texas.
Award Winning Meat Smokers
Traditional with a Texas Twist
Waco Beef & Pork Processing is proud to offer 100% US products. Our master butchers and sausage makers have over 120 years of experience with making the finest meats that come out of central Texas.
Easter Ham. Smoked Turkey. Seasoned Brisket. Smoked Prime Rib. We know what makes the best smoked holiday meats. Award winning. Community based. Service driven.