With life being so fast paced and filled with process foods, many of us are searching for healthier options to feed our family. There always seems to be some kind of new cool and healthy options, but if you are looking for simple, healthy, and cost-effective ways to feed your family why not consider ground chicken?
There are many health benefits to ground chicken. Ground chicken is filled with the protein and vitamins and minerals our bodies need. It can help to lower cholesterol, blood pressure and weight. Yes, you read that right! Ground chicken helps with weight loss because of the high protein levels.
If you are getting excited about the possibilities ground chicken can have for you and your family and are ready to include ground chicken in your family's meals, here are some great recipes to get you started.
Ground Chicken Crust Pizza
This a great, low carb alternative to traditional pizza. Using ground chicken as the crust, your family will be fooled into thinking they are eating a sinfully delicious pizza. This recepie was found on yummly.com.
Total time: 50 minutes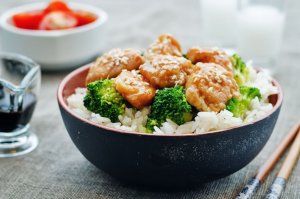 What You'll Need:
For the crust:
16oz. ground chicken
1/2 cup fat free shredded mozzarella cheese
2 teaspoons fresh ground oregano
1/2 teaspoon salt
1/2 teaspoon onion powder
For the top:
1/2 cup tomato sauce
1/2 cup fat free shredded mozzarella cheese
What You'll Do:
Pre-heat your oven to 400.
Mix together your crust ingredients (ground chicken, cheese, oregano, salt, and pepper) until you form a ball.
Put the ball on a piece of parchment paper, and, using a bamboo rice spoon, spread the "dough" until you form a 1/2-inch thick circle. It will be around 14-inches in diameter. Be sure that the middle and edges are all the same thickness, so it cooks evenly.
Bake for 25 minutes.
Take the crust out of the oven and add your cheese and sauce.
Bake another 10 minutes.
Let it cool just a little so you can cut it.
Crockpot Lasagna
No one wants to cook an entire meal at the end of a long day. This crockpot lasagna recipe made with ground chicken lets you relax with your family in the evening instead of stressing about dinner.  It can also be found on yummly.com.
Prep Time: 10 mins              
Cook time: 4 hours               
Total time: Just over 4 hours
Ingredients
1-pound ground chicken
24 ounces spaghetti sauce
24 ounces ricotta cheese (cottage cheese, could be substituted)
16 ounces lasagna noodles
2 cups mozzarella cheese (grated)
Instructions
Brown ground chicken over medium heat in a sauce pan.
Add spaghetti sauce to meat and let simmer.
Spray the inside of slow cooker with cooking spray.
Spoon a layer of sauce into the bottom of the slow cooker.
Add a layer of uncooked lasagna noodles.
Spread 1/3 cottage cheese over noodles.
Spoon another layer of meat sauce.
Sprinkle 1/3 of the cheese.
Repeat until you run out sauce/noodles, making sure to end with meat sauce and cheese.
Cook in slow cooker on low for about 4 hours.
Ground Chicken Taco Recipe
This is an easy family favorite that will have them running to the table. Made with ground chicken, this tasty meal is a healthy option from the blogchef.com.
Total time: 30 minutes
Ingredients
2 tablespoons olive oil
1 medium onion (finely diced)
4 garlic cloves (minced)
2lbs ground chicken
1 tablespoon paprika
2 teaspoons chili powder
1 ½ teaspoon ground cumin
½ teaspoon dried oregano
1/8 teaspoon cayenne pepper
1 ¾ teaspoon salt
1 (8 ounces) can tomato sauce
½ cup chopped fresh cilantro
12 taco shells
2 cups shredded lettuce
2 cups shredded cheese
Instructions
Preheat the oven to 325 degrees F. Heat olive oil in a large skillet over medium heat. Add onions and sauté until starting to brown (about 10 minutes). Add the garlic and cook for another minute.
Add the chicken, paprika, chili powder, cumin, oregano, cayenne, and salt. Turn the heat to high and use a wooden spoon to stir and break up the chicken into small chunks until the chicken is partially cooked (about 5 minutes). Stir in tomato sauce, reduce heat to low and simmer, stirring occasionally for about 10-15 minutes or until the chicken is cooked through. Sprinkle with fresh cilantro.
Lay the taco shells on to a baking sheet. Place into the oven and bake for 6-7 minutes or until crispy. Spoon the chicken into the shells and serve with toppings.

It is easy to get stuck in the rut of using fast processed meals or fast food. The last thing anyone wants to do is cook a big dinner. Using these fast, healthy ground chicken alternatives not only free up your time, but they are healthy for your family. Enjoy!