Top Central Texas Wholesale Sausage Casing Suppliers
All-Natural Sausage Casings. Top Quality Beef & Pork.
Commercial sausage making supplies. Bulk and wholesale sausage casings. Give your sausage recipe an unbeatable flavor, moisture, and texture with a natural casing from Waco Beef & Pork Processors.
We offer refrigerated delivery throughout central Texas
Best Natural Casing Makes Better Sausage
All-natural pork and beef sausage casings are ideal for all varieties of Old and New World sausage recipes. 100% American beef and hog natural casing. Best selection in central Texas: Waco Beef & Pork Processors.
Care and Shelf-Life of Sausage Casings
Thoroughly rinse and soak any natural casing in cool water before stuffing. Cover leftovers with salt. Refrigerate pork and beef casings for extended shelf life. Discard if discoloration occurs.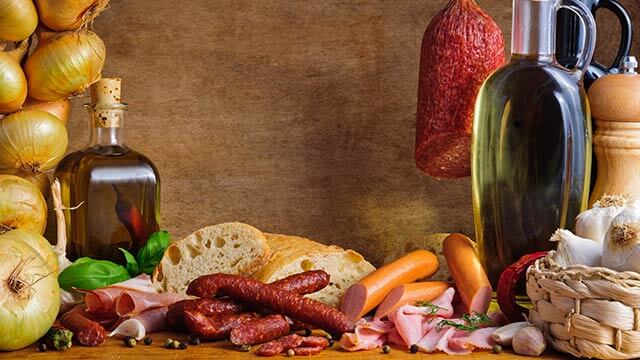 Top Quality Natural Pork Casing
All Natural Hog Middles
Common in blood sausage, natural hog middles are highly versatile. Give off a strong odor when not spoiled. Refrigerate to preserve.
Diameter approximately 55-60mm (2.25″)
Safety is Our Top Concern:
Our safety and cleanliness requirements are the strictest in the industry. Waco Beef & Pork requires letters of guarantee from suppliers ensuring top quality standards. Waco B&PP adhere to the strictest safety requirements when cleaning and processing all natural hog casings. Individually inspected. Attentive quality control.
Waco B&PP processes and prepares the best selection of all-natural hog sausage casings. Natural hog casings can be cured, smoked, fermented, and preserved. They are edible and enjoyable in a number of sausage recipes.
Diameters available:
29-32mm (1.125 – 1.25″)
32-35mm (1.25-1.4″)
35-38mm (1.4-1.5″)
38-42mm (1.5-1.75″)
For many recipes of Czech, Polish, German, and other Old World sausages, we recommend approximately 2 feet of casing for every 1 lb of meat. Also great for Chorizo and Cajun sausages.
Professional. Experienced. Sausage Masters.
As members of the American Association of Meat Processers (AMP) and Texas AMP, we adhere to the highest national standards of sausage casing suppliers. As trained sausage Masters, we know about the best natural casing. We know about processing, curing, and preserving.
We bring you the best all-natural sausage casings so you can make better sausages. Waco Beef & Pork Processing: Central Texas' top wholesale and bulk sausage casing suppliers.