Delicious and specialty cheeses are expertly and carefully handmade by cheese artisans in the country and around the world. Thus, every type of cheese production change as it ages. As such, it is essential to know how to properly handle and care for this food product, especially if you are buying wholesale cheeses for your restaurant or catering business.
In today's post, we'll share some helpful tips in various situations involving wholesale cheeses. If there is any other information you would like some advice on about our wholesale cheeses and other product offerings, please don't hesitate to reach out to us.
Cutting Large Wholesale Cheeses Bricks
First, you must cut through the cloth covering the cheese about 3 centimeters deep into the borders. Use a larger serrated knife for doing this task. Using a big cheese wire, trap the wire in all the corners of the cheese brick.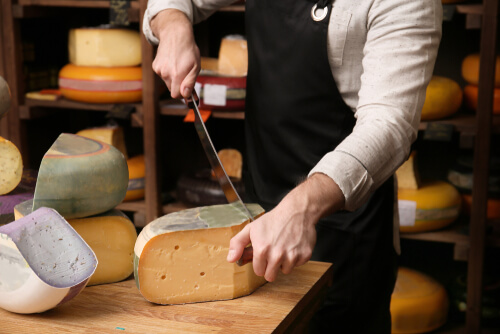 Make sure the cheese wire is loosely folded into the cut you made all the way around the cheese brick.
Trap the top part of the cheese wire with your one hand while pulling gently with your other hand. This will cut the cheese brick in half. Use a cling wrap to cover the surface of the cheese halves.
Cut the other half of the cheese brick just like you did previously. Doing this step will give you two more sections of cheese.
Take one-quarter of the cheese and cover it with cling wrap. Remove the cheesecloth carefully in the quarter of the cheese you'll be further working on.
Cut the quarter of the cheese you are working on into three portions. Use a standard cheese cutter for this step.
You can now use each portion of the cheese, and further cut them how you would like for pieces for sale. Keep in mind that cut cheese dries out quite quickly, so you need to cover each portion completely.
Soft Cheeses
Wholesale cheeses wrapped in plastic or paper for more than a couple of days tend to get ammoniated or will perspire. To avoid this condition, some cheese distributors use heat-treated and food-grade wooden boxes, particularly for soft cheeses. These boxes are ideal for cheese storage in the fridge and other food products that are ready to eat.
Freezing and Storing Cheeses
Buying cheeses in bulk for your restaurant and food business is ideal – especially since the prices can go up in some seasons. When you purchase wholesale cheese when they are at a more affordable price, you have to be familiar with proper storage and handling of these food products.
Through the right storing and freezing methods, most types of cheeses can last for about a year. However, standard storing methods at home don't particularly apply here. We're talking more about for restaurant and commercial use of these food products.
For Long-term Use
If you decide to keep the cheese for extended periods, the most recommended storage method is to freeze it. Freezing is ideal for semi-hard and hard types of cheeses.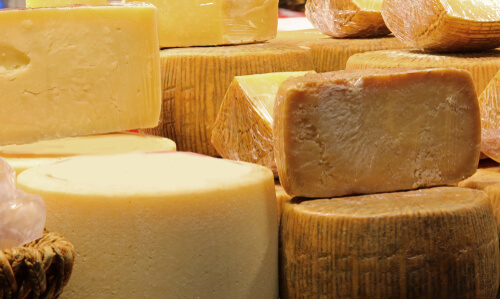 Freezing cheeses don't affect the freshness and flavor. However, a lot of cheese experts warn that freezing may change the overall texture of the cheese. In many cases, frozen cheeses have turned crumbly.
For best results, make sure not to freeze the cheese for over six months. Before you freeze cheese, you must also cut it into smaller portions, wrap tightly with cling film, and store in a heavy-duty and good-quality freezer bag. Another option is to grate the cheese before storing it in the freezer.
Proper Handling of Cheese Increases its Lifetime
As you know, cheese is a food product that will spoil quickly when not handled the right way. Thus, it's essential to educate yourself with proper handling and storing methods, especially if you are buying bulk cheese for restaurants, catering, and other commercial use.